We went to try out a new park the other day. Erick wanted to play disc golf, but we couldn't figure out where it was, so we just played on the playground and then took a hike. In my opinion, the playground was really intended for big kids. The actual slides were very challenging to get to, but Piper persevered and climbed up the chain ladder with a little help.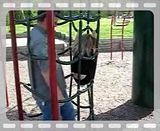 She did make a friend however, and had fun running around with her, and then blowing bubbles with her and her little brother. Erick and I were debating about how old the kids were. Piper was all about playing with the girl who appeared to me to be about 4-5. She was barely taller than Piper, but her speech was more sophisticated. The little boy I guessed to be barely 2, maybe younger based on his movements and speech. Piper wanted nothing to do with him, when normally she likes to play with the boys, and I attributed it to him being younger than her. Erick thought the girl was about 3 and the boy the same as I guessed. I finally asked their father how old they were, and he told me the girl had just turned 5 in January which confirmed my suspicions. The boy as it turned out, was exactly the same age as Piper, which really surprised me.
Afterwards we took a hike through the woods to "look for bears", but of course we didn't find any. Piper collected her usual stash of sticks, and pointed out all the flowers and bugs to us along the way.